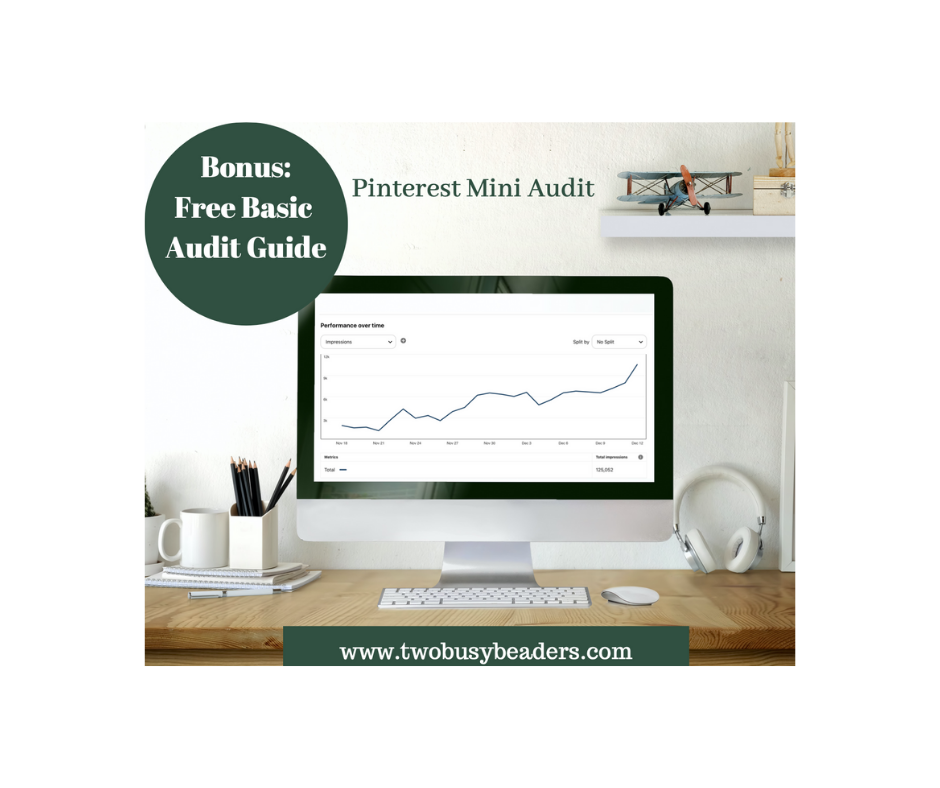 Identify your Ideal Client
Grow your business and audience
Build your Email list
Generate more leads and sales
Repurpose your content to save time
Are you frustrated with Pinterest because...
You want to use Pinterest to market your business but you don't know how
Your Pinterest is not bringing much traffic to your website
The algorithm is confusing to you
The thought of having another platform is overwhelming
Lose the Frustration!
My Mini Audit serves to give you clarity on how to best use Pinterest specifically for your business and how to identify and reach your ideal client. I look at your Pinterest account and your website to see the best way Pinterest can be used to grow your business. 
What is included….
Recorded walkthrough of your Pinterest account with.....
Optimization suggestions
Marketing recommendations
Strategy recommendations to get your content visable
Basic Audit Guide
What to expect…..
Loom recording emailed to you.
Turn around time 2-5 business days
You are now ready to create you marketing strategy
No more guessing on how to properly optimize your account
Gain Clarity!
After the audit you will have a better understanding on how your Pinterest account can be a marketing tool for your business. You will also know what aspects of creating your Pinterest account is the most vital to growing your brand visibility and coverting to sales. 
Get you mini audit for only $75! You'll be asked to enter your Pinterest URL at checkout.
Frequently Asked Questions


How do I receive my mini audit?
After completing your mini audit, I will email you a link to watch your recorded walkthrough of your Pinterest account along with your audit guide.
Is this audit customized?
Absolutely! I will record a loom video of your account with recommendations on areas of improvement. You'll have this along with an Audit guide to assist you in making changes.