Pinterest Keyword Swipe File ($15 Value)
Did you know that keywords are what make or break your Pinterest account's success? If you do not have your account optimized for Pinterest SEO, your content will have limited reach. This is because Pinterest is a search engine, not social media.
Researching your keywords take time. That's why I have created a swipe file with 100 Pinterest keywords that are ready for you to copy and paste in all the right places.
I have included 100 keywords and 47 hashtags in nine niches..
Handmade Jewelry
Home Decor
Handmade Gifts
Selfcare
Journals/Planners
Coaching
Artwork
Women's Fashion
Holidays
These Keywords are in a spreadsheet that can be opened in Google Docs. It's easy to copy and paste keywords so you save time!
Pinterest Organizer ($10 Value)
You'll get a Pinterest organizer that has three sheets. These sheets are blank and customizable for you to stay organized with your keywords and pins.
Sheet one: Master Keyword List -for you to list all your keywords (found while researching) for easy copy and paste.
Sheet two: Pin Organizer- Screenshot your pin and paste in the cell. This is for a visual organizer.
Sheet three: Pin Tracker- Keep track of pin url, keywords used and stats on pins that you have pinned.
This organizer is in an Excel Spreadsheet to download. It's easy to copy and paste keywords so you save time! The Pinterest keyword swipe file AND the Pin organizer have been combines to one spreadsheet.
Optimizing Your Pinterest Mini Course ($30 Value)
Four video lessons are on….
Finding your ideal client
Finding your keywords
Finding keyword trends
Where to put your keywords
BONUS: 6 Canva Templates
With this bundle, you have everything you need to find your keywords and be organized.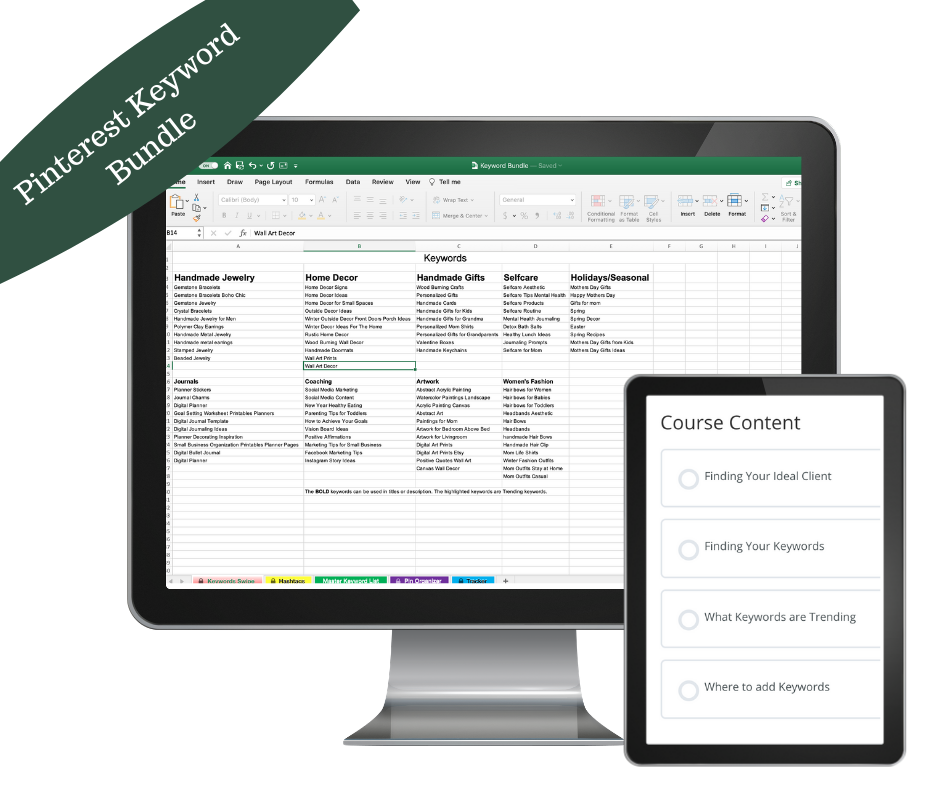 I know how time consuming it is to optimize your Pinterest. I have created a bundle for you that will save you time while optimizing your Pinterest account. With this bundle you will……..
Learn how to find keywords that are for your niche.
Learn where you should put all your keywords to optimize your Pinterest.
Find your ideal client on Pinterest with your keywords.
Have 100 keywords and 47 hashtags that are from 9 popular niches ready to copy and paste.
A spreadsheet that will keep your keywords and pins organized.
Let's Grow Your Pinterest!!
Optimizing your Pinterest account for SEO is so important for your account's growth! This bundle has everything you need to optimize your account with keywords and stay organized!